Club News
Lady Captains Day
---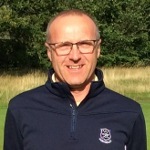 John Green
PGA Professional Team Alwoodley Golf Club
With precision and poise, Gerry Durbin had everything organised for her Captains Day on Tuesday with the only variable being the weather but we should have known Gerry would organise this as well, it was idyllic! A few of the ladies section had snuck up the day before and 'dressed' the veranda with bunting and flowers so everything looked amazing.
Angela Brophy, Rosey James and Claire Ward played their socks off in the three to count on the 18th, one to count on the 15th and two to count on the rest format and amassed an all-conquering, stunning 92 points. Long time leaders LN Manchester, Jan Ledger and Morag Ross were runners up on 89 points.
Helped by a brilliant seven points on the fourth the Nine Hole Green Tee comp was won by Elizabeth Stephens, Janet Betteridge and Sara Leefe. Everything went superbly and the day was enjoyed by everyone.
The photos show the brilliantly dressed clubhouse and the winners.